Welcome to Epworth United Methodist Church
We are an active community of faith striving to make a difference in people's lives in the name of Jesus Christ to the glory of God.
It's Happening Now at Epworth!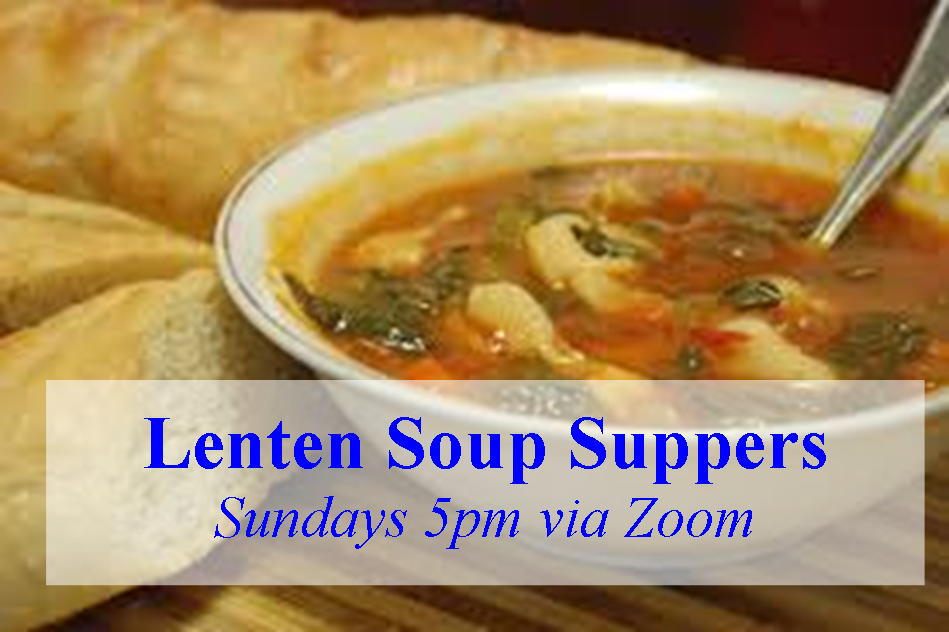 Our Lenten Soup Suppers are held at 5pm n Sunday evenings throughout Lent. Using Zoom we will gather in our homes, share soup and conversation. Our theme this year will be using some of our favorite children's stories and see what they have to teach us using our scriptures as a lens. For generations we have shared these tales but maybe there is something more for us to learn especially about faith. Each week we will share a recipe from our Soup Supper recipe book for those who would like to try it out. Also plans are being made to share soup with one another. If you are willing to make extra soup to share with others please contact Jo Malessa. Together we can share a meal, conversation and fellowship. A link will be shared via email.
LENTEN BIBLE STUDY ~ Wednesdays, 7pm, via Zoom 

The cross is the central symbol of the Christian faith. But what exactly did Jesus do to save us from our sins? Why was the cross necessary, and what does it mean for us today?
In Savior: What the Bible Says About the Cross, Magrey deVega faithfully describes the need for reconciliation between humankind and a holy God through Jesus' death on the cross. The Bible uses many images to understand the meaning of Jesus' death and resurrection, and deVega guides us through these images to achieve a richer understanding of the Christian faith. By exploring the mystery of salvation through the cross, we can deepen our love for God and others and strengthen our commitment to follow Jesus. Books available in the church office.
You are invited to join us for the Daniel Plan, a lifestyle program, based on Biblical principles, designed to improve health at every level. It focuses on 5 essential components—Faith, Food, Fitness, Focus, and Friends. While one of the benefits may be weight loss, it is also a plan to develop faith, increase energy, improve sleep, and perhaps reduce stress levels. Please contact Liz Rosvold or through the church office to register your interest. Meetings are scheduled for Tuesdays, beginning March 2 at 7pm.

UPCOMING EVENTS and MEETINGS

Sunday Worship ~ 10 am  online
Monday Check-in ~ 10am via Zoom
Wednesday Discussion Group ~  7pm via Zoom
Triboro Lenten devotional ~ 7pm  Go to Our Lenten Journey page for more information
Men's Group ~ Thursday, 7pm via Zoom
Food Pantry ~ Saturday, Mar 6 at 10am- noon    Future Dates  3/20, 4/3, 4/17 
Lenten Soup Supper ~ Sunday, Feb 28 at 5 pm via Zoom   Future Dates  3/7, 3/14, 3/21, 3/28
Ad Council Meeting ~ Monday, Mar 1 at 730pm via Zoom
Contact and Location Info
Epworth United Methodist Church
501 Morgan Avenue
Palmyra, New Jersey  08065
856-829-1908
epworth.palmyra@yahoo.com